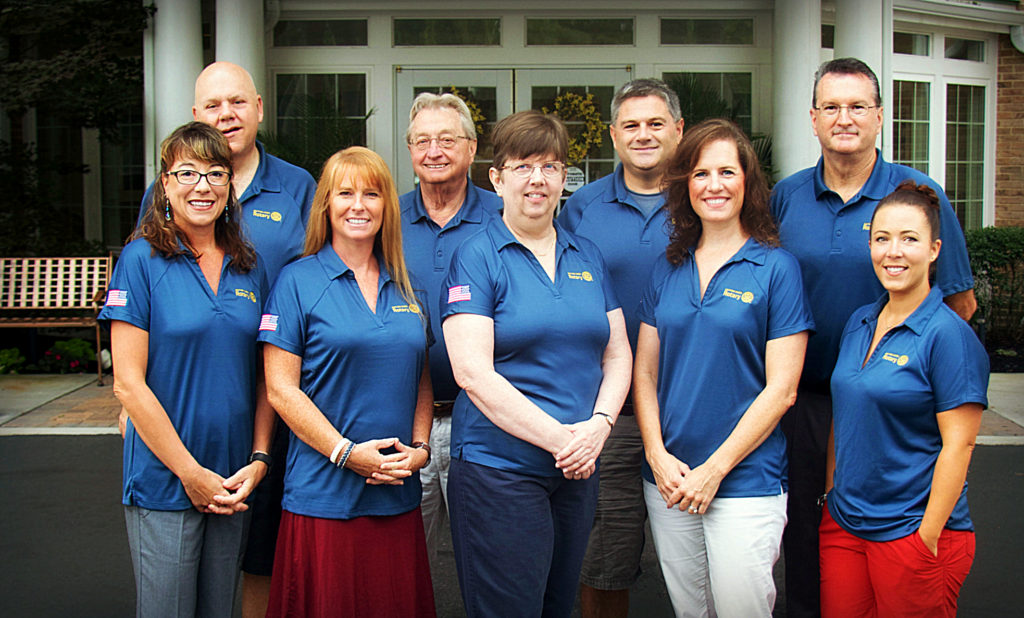 PRESIDENT A Cum Laude graduate of Tulane University, Regan is the second-generation owner of Custom Mechanical. Mostly, though, Regan considers herself a professional juggler as she manages all the different roles she plays in her daily life. Regan is at once a small business owner, Sussex County native, partner to an amazing husband, and mother of 3 awesome children. And there is one lesson that applies to all of these facets of her life: thoughtful actions and trustworthy practices are what it takes to be successful. As President of the Southern Sussex Rotary (2017-18), Regan applies that same principle to the club by working to expand the reach of their service efforts and improve their fundraising efforts to support more local groups of action within the community. 
PRESIDENT-ELECT | FOUNDATION CHAIR Scott
SECRETARY Christine has been in marketing, sales, and management roles for over 15 years, serving in roles ranging from administration management to controller to CEO.  She became a Realtor® with 1st Choice Properties two years ago, selling residential real estate in the DE and MD coastal areas.  Christine first became a Rotarian in 2008 in Wilmington, NC.  Shortly after she and her husband relocated to southern Delaware, Christine was introduced to members of the Southern Sussex Rotary and was hooked!  She officially joined the club in 2013. Since joining Rotary, Christine has held the roles of secretary, vice-president, president and co-president.  After hearing about Flags for Heroes during her presidential training in 2015, she introduced the concept to the club. Thanks to the support and hard work of the club members, this has become the primary fundraiser for Southern Sussex Rotary.  Christine also heads the Jackie Pavik RYLA Foundation movie night at the Clayton, and is involved in establishing the Interact Club at Indian River high-school where her son will be a charter member during his senior year.  She enjoys participating in as many service projects as possible with her awesome Rotary family because the club to her has always "done epic stuff" to serve the local community.
MEMBERSHIP CHAIR  Stephen joined Rotary after retiring as 2nd in command of the Ocean City, MD Police Department. This concluded a 28 year law enforcement career which began with the Metropolitan PD in Washington D.C. upon completing High School. Stephen owns AACTION Print Services, resides in Selbyville with his wife Katharine and is actively involved in the community. During the last 21 years as a Rotarian, Stephen served as Club President in two separate terms. On the District level, he has held numerous positions in membership development and leadership roles and has spearheaded the growing popularity of our Flags For Heroes event. If asked what Rotary does, he simply replies "Everything that is good in the world; WE DO THAT!
TREASURER Jean
PAST PRESIDENT Brad
LITERACY CHAIR Brendan Garfield Crotty is a Realtor with Keller Williams. He is a member of SCAOR. Brendan has been awarded the prestigious Certified Residential Specialist (CRS) Designation by the Council of Residential Specialists, the largest not-for-profit affiliate of the National Association of REALTORS®..  Brendan is also a RSPS (Resort & Second Home Professional, ABR (Accredited Buyer Representative, Past President of Southern Sussex Rotary, Assistant Cub Scout Master, Volunteer Coach at River, and Literacy Chair with Rotary and runs the annual Third Grade Spelling Bee. "There are many designations and routes a realtor can take. I chose CRS, because of the outstanding education and training offered. I believe what I have learned can help my clients enjoy a smoother buying and selling processes. Buying or selling a home can be stressful and I strive to make the process easier for my clients." said Brendan Garfield Crotty.  He is married to Kristen and has two wonderful boys.  They live in Ocean View.

WHITNEY A school counselor at G.W. Carver Academy in the Indian River School District and former special education teacher, Whitney earned her Bachelor of Science in Behavioral Science Degree from Wilmington College as well as a Master of Education in Special Education, followed by earning a Master of Education in School Counseling and Certificate of Advanced Study in School Counseling from Wilmington University.  Whitney has served on numerous advisory boards including the Parent Information Center of Delaware, The Rodel Foundation's Teachers Leadership Network and two terms as a governor-appointed member of Delaware's Professional Standards Board.  Whitney is credited with writing and receiving several community grants including the Freeman Foundation's FACES Grant, the Delaware Community Foundation's NextGen South Grant, the Dollar General Literacy Grant and the Quiet Resorts Charitable Foundation's Education Grant. Whitney is as passionate about education as she is about service to the community and has been a member of the Southern Sussex Rotary Club for the past 4 years. She has served as co-chair for the annual Rotary sponsored G.W. Carver Academy School Supply Fundraiser, which helps supply students and staff with the necessary items needed to succeed in the classroom.  
JENNIFER is a Case Review Specialist with the Office of the Investigation Coordinator through the Office of the Child Advocate.  Her job entails monitoring all cases of child sexual abuse, serious physical injury, and child deaths due to abuse/neglect.  Jennifer started with the Office of the Child Advocate in 2017, after being providing treatment services to children and families as a Family Crisis Therapist with the Division of Family Services for over 20 years.  Jennifer received her Bachelor's degree in Psychology from the University of Pittsburgh at Johnstown, and a Master's Degree in Counseling Psychology from Salisbury University.  A native of Lancaster County, Pennsylvania, Jennifer relocated to Sussex County in 1994 after completing her undergraduate work.  She is the proud mother of three children, who are her love, joy, and priority. Jennifer joined Southern Sussex Rotary Club in 2014 due to her love of volunteering for her community.  Jennifer enjoys giving back to her community through all of the volunteer opportunities, whether it be supporting Wounded Warriors, or through local events such as community Spelling Bees and food/school supply drives.
DOMINIQUE – MSPT, CLT – has been a Physical Therapist in the area for 17 years.  She earned a Master of Science Degree in Physical Therapy from Widener University, and a Bachelor's Degree in Psychology from the University of Delaware.  She has been a Rotarian, as a member of the Southern Sussex Rotary, since January of 2007.  During her time in this club, Dominique has served as Secretary for 2 years, President for 3 years, and most recently as Co-President for 2 years.  She has been a very active member, especially with fundraising, food drives, school drives, and social/membership events.  Her proudest Rotary moment was helping her club obtain the grant for the Camp Barnes Delaware Burn Camp. The grant sponsored 6 week-long campers with the mission that they "arrive in long-sleeved shirts and leave in short-sleeves."
SUE moved to the beach area in 2000 from the Maryland suburbs of Washington, D.C.  She became involved with Meals on Wheels immediately and eventually worked for CHEER managing the program for several years.  Sue spent the last five years working for the Bethany-Fenwick Area Chamber of Commerce as its membership and operations manager.  Most recently she joined her husband's CPA practice as a bookkeeping specialist.  Passionate about the Selbyville community, she spent the last ten years on the Selbyville Public Library's Board of Commissioners, serving the last eight years as its president.  Sue looks forward to the many opportunities to make a difference in the community through Rotary activities and projects.
GEORGE